Whether you are a first-time homebuyer or you've been through the process before, you'll note that on the closing "to-do" list that your agent has sent over, there's a line item that says "Pest Inspection." Here's a quick rundown on everything you need to know when it comes to pest inspections.
What is a Pest Inspection?
A Broken Arrow Pest Inspection verifies the presence or absence of insects, rodents, snakes, or spiders in the structure of your home.
An official pest inspection is completed by a professional looking for specific indicators in your home that are tell-tale signs of potentially dangerous and harmful evidence of pests in the house. The inspector will look at both the outside and the inside of the home, paying special attention to places where pests may have breached the structure's entrance. The inspector will also look for evidence of pests, such as droppings. The goal of the pest inspection is to identify if there is any sort of structural compromise or health hazard due to the presence of pests.
What To Expect From a Pest Inspection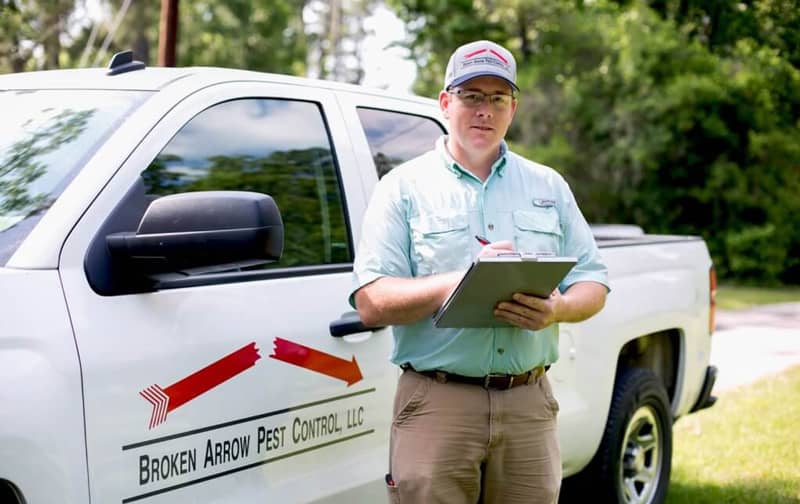 The inspector will need access to the inside and outside of the house and the crawl space/basement. They will be looking for evidence of pests and damage caused by pests. Consequently, you'll need to ensure that the inspector has access to critical areas, such as under the sink/around water sources and the garage walls, to inspect for potential hazards properly. When you make an appointment for your pest inspection, be sure to ask which areas they'll need access to so that you can prepare accordingly.
When Is the Right Time For a Pest Inspection?
Most lenders require a pest inspection before closing to fund a mortgage. Consequently, it's very common that the Pest Inspection will be a line item on your contract to complete the to-do list. However, if you are not selling a home, periodically requesting a pest inspection as part of your standard house upkeep inspection can help if you encounter a pest-induced loss. In addition, having documented regular inspections with the appropriate treatments (if needed) will help if you ever need to make a claim to show that any damage you've incurred is new.
Do You Need More Than One Inspection?
For a home purchase, you only need one inspection. However, if damage was found, it is essential to have the home inspected again AFTER the appropriate treatment has been completed. This confirms no lingering structural or health hazards related to pests and establishes a protocol to mitigate future problems caused by pests.
How Do I Prepare for a Pest Inspection?
First, plan on at least 30-60min for a standard inspection. If you have a challenging crawl space to access, have a house larger than 4000 square feet, or have other known circumstances, this will increase inspection time. Next, you'll want to be sure that it is easy and unobstructed access to critical points around the property, specifically all egress points, water sources, garage walls, and crawl space/basement access. Finally, remember that having a pest inspection is a good thing. At best, it verifies that your home is safe from invasive creatures, and at worst, you will have a documented list of things that need to be fixed to ensure that your home is structurally sound and healthy.
What Happens After a Pest Inspection?
If your home passes inspection, your pest professional will provide a document that verifies that they completed the inspection and that the property is free from any infestations that could harm the home's structure. This includes termites and pests that could pose a health hazard, such as rodents.
If your home does not pass inspection, the pest professional will provide you with a report with clearly documented areas of concern and what needs to be done to remediate the problem. If the pest inspection was completed as part of the home sale, the results could impact whether or not both parties make it to the closing table. So it's vital that the report is furnished and any problems addressed in a satisfactory way to both parties BEFORE closing day.
The purpose of a pest inspection is to verify there are no pests that hurt the structural integrity of a property or pose a health hazard. Frequently required by mortgage companies, many families choose to have the home inspected for pests to give them peace of mind that their home is safe and sound from unwanted insects, rodents, and snakes.
Working with a Broken Arrow Pest Control specialist can improve your peace of mind, save your home from costly damage, and ensure your family is living in a safe environment.