What is a Carpenter Ant?
A carpenter ant is a specific type of ant characterized by its nest characteristics. They build their nest through burrowing tunnels inside the wood and create an entire colony in the wood shelter. Carpenter ants, when mature, can have upwards of 10-50,000 individuals in their colony. They usually appear spring through fall as they tend to sit in their nest over the winter period.
The best way to identify a carpenter ant is through body shape and size. They have six legs, can appear red, brown, or black, and are about ½" to ⅝" of an inch. Their thorax is oval with distinct segments and can be found in the US, most commonly in the North. They also might tote a pair of wings, depending on the gender and maturity of the insect.
How do I know I have an Infestation?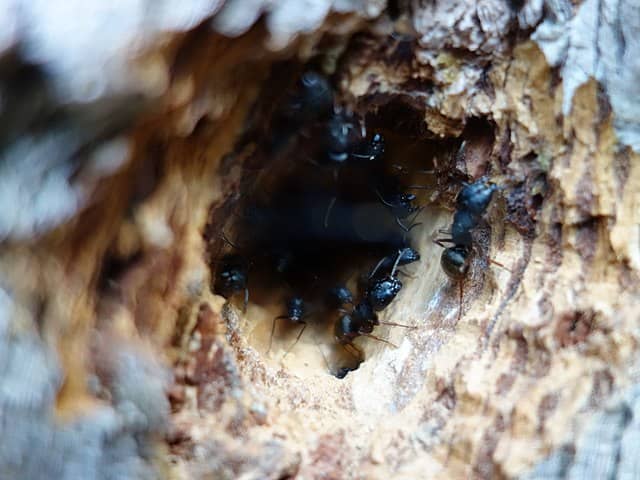 There are two main ways to determine if you have an infestation. The first method is actually to identify the ant or swarmers near wood. Use method two if you haven't made contact with the insect and are still suspicious.
Method two is carefully checking around the wood with a history of moisture issues or fungus. Carpenter ants love to colonize softened wood. After that, look for small openings on the surface of the wood. Suppose there are bits and pieces of insulation, fragments of wood, sawdust-looking debris, or insect body parts that are especially seen underneath one of these holes. In that case, there's a solid chance that you have a carpenter ant infestation.
It's always a good idea to contact an exterminator or act immediately after realizing you have a carpenter ant infestation. Following are some DIY solutions and professional solutions to try out.
DIY Solutions
Most DIY solutions aren't going to be easy, and it will take some time to find the actual nest. However, there will always be multi-stepped solutions, so pick the one that works best for the situation.
Bait the Ants – It's essential to find the exact location of the nest entrance, so making a small concoction that's sweet will attract the carpenter ants to your site. Mix equal parts jam and baking soda, put them on a plate, and watch them return their new treat to the colony! The jam will attract while the baking soda kills.
Get Rid of Scent Trails – Pheromones are animals' building blocks, and carpenter ants use them too. Carpenter ants use pheromone trails to find food, shelter, and travel routes. Pay extra care when cleaning your home, and use a homemade solution to block those pheromone receptors further. This could be a solution of one part dish soap to two parts water or a one-to-one ratio of water and white vinegar. Place this in a spray bottle to wipe down your home. Also, grabbing a cotton ball and wiping strong citrus essential oils on surfaces could further disrupt their paths. Getting rid of scent trails is the easy part.
Finally, Destroying the Colony – Unfortunately, the wall can't be saved when destroying a carpenter ant nest, and it will take several treatments to destroy it. First, check with a licensed contractor before drilling holes in your walls to ensure you do not accidentally hit an electrical cord. Once you have determined it is safe, drill ⅛" holes every six inches in the suspected area. Next, it's best to use a bulb duster to project a powder and "puff" boric acid through the holes.
The Pro's Solution: Step-by-Step Action
Assess the Case
When it comes to an exterminator's approach, it always comes down to the situation and how extreme the carpenter ant infestation is. Carpenter ants are among the most challenging pests to exterminate, even for the pros. It can take anywhere from multiple treatments and up to a year worth of work to be completely carpenter ant-free. Therefore, it's always a good idea to find the best exterminator for the job that cares not only about your safety but about what method will fit your lifestyle and situation.
Extermination Methods
There are several methods pest control might take for carpenter ant extermination. Here are a few to note:
Dust Material Treatment:
Used for indoor infestations, an exterminator will use the dust treatment to locate hidden ant colonies in addition to killing the infestation. These professional-grade materials are potent and can't be found over the counter at the same strength.
Mist Treatments:
Mist treatments are highly concentrated light mists sprayed on wooden structures, including beams and doors. The mist kills the colony inside wooden structures.
Residual Insecticides:
This insecticide is highly potent and lasts for a LONG time after treatment. This method is usually used for extensive cases that will take more time to treat. The insecticide can be used as a barrier between home and colony, or to kill the carpenter ants inside the colony.
Ant Bait:
Ant bait is a highly efficient means to eliminate carpenter ants and is very popular amongst exterminators. This method allows worker ants to kill the colony through their primary food source, eventually killing every ant. This method takes a bit longer but is highly effective.
Water-Based Insecticide:
This method is similar to the Dust method but works exceptionally well with harder-to-reach surfaces like cracks or crevices. The pesticide can get into places that dust might otherwise not be able to reach.
Perimeter Treatment:
The perimeter treatment is used in outdoor situations. A treatment is applied to the house's perimeter or structure to prevent ants from getting to it.
Future Prevention
It is highly recommended to replace all moisture-damaged wood inside and outside the home. Not only does this help with fungal and mold issues, but it also prevents attracting carpenter ants to the interior of your home. Repairing any exterior crevices leading indoors is also helpful. If you ever see a carpenter ant indoors, it's essential to act quickly!
Conclusion
In the end, acting quickly is imperative if you ever see a carpenter ant. Whether on your own or with the help of a professional, carpenter ant extermination is vital for your home's structural integrity and ease of mind. Rest assured, your home will be creepy-crawly-free at the end of the day once the infestation is handled!