Have you seen swarming termites?
Let us take a look for you.
Eastern Subterranean Termites
The most common species of termites we find in the area.  Colonies will be in the soil and worker termites will travel up to their food sources.  On very rare occasions, under special circumstances, are they able to establish colonies above ground.  These termites will swarm during the day usually between 10am and noon from March – April.
Formosan Subterranean Termites
The second most common species of termites we find in the area.  Colonies can be in the soil but if they find favorable areas above ground they will establish colonies above ground.  This species is very aggressive feeder and will eat wood very quickly.  These termites will swarm at night typically from May – June.  They are frequently referred to as the 'Mother's Day Swarmers' because they will often swarm right around Mother's Day.
Drywood Termites
The least common species of termites we find in the area but we come across them from time to time.  Colonies are completely above ground and do not need contact with the soil.  When you have a colony of these you will typically find their fecal pellets directly below where the colony is located.  These termites will typically require fumigation for treatment.  This species prefers old wood so frequently they will be found in old homes and/or antique furniture.
What Solutions Do You Provide?
We provide multiple option for treatment based on your particular situation.  We provide treatments to the whole home or spot treatments.  Every home or office is different and so we are required by law to do an inspection before we can give you an exact price.  At that time we will go over the different options available to you for an effective treatment to your property and to provide you will long term control.  We provide long term guarantees, not guarantees that you will have to pay for year after year.
I Found Swarmers In My House What Do I Need To Do?
There is two reasons you would find swarmers in your home: 1. termites swarmed outside your home and crawled through an opening to come into your home, 2. the swarm came from your home which means you have worker termites feeding inside.  A termite inspection will provide the answer you need.
Termite Pest Control & Inspections
Broken Arrow Pest Control is committed to being the best at what we do, serving southeast Texas family residences and local businesses with quality pest extermination services to keep pests at bay.
Call us for a quote or request a service appointment below. We look forward to serving you!
Residential Pest Control
We provide comprehensive pest management services throughout Polk, San Jacinto, Tyler, Angelina, Liberty, Jasper County, Trinity County and surrounding areas. We relate to our customers like family and we care for your homes as if they were our own. With flexible scheduling to fit in your busy schedule, we're here to resolve your pest problems.
• One Time or Recurring Service
• WDI - Wood Destroying Insect Reports
Commercial Pest Control
Licensed and insured with the training and experience to solve the pest issues you face in your company. Providing expert service, our service programs will resolve pest issues you may encounter. All of which guarantees our pest control service meets your high-quality standards.
• One Time or Recurring Service
• WDI - Wood Destroying Insect Reports
• Integrated Pest Management (IPM) for schools
Eco-Friendly Options
Ask about our organic pest control service options! If you want to use an environmental friendly method, we have a variety of organic solutions that work great and are fantastic families with young children.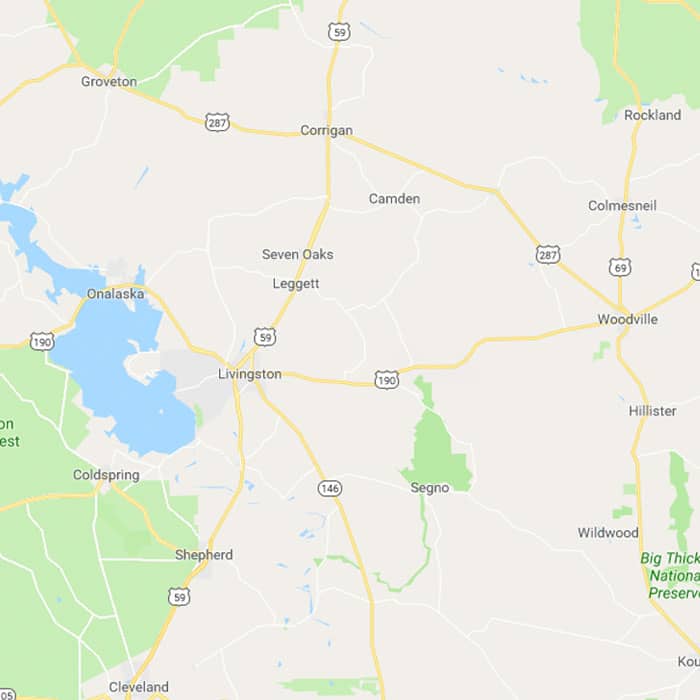 Service Area
We provide pest control Services to Polk County, San Jacinto County, Tyler County, Jasper County, Angelina County, Liberty County, Trinity County and some of the surrounding areas.
So if you are in:
Livingston, Woodville, Coldspring, Onalaska, Shepherd, Corrigan, Chester, Colmesneil, Fred, Trinity, Spurger, Warren, Oakhurst, Rye, Jasper, Lufkin, or other areas in between give us a call.
936-327-7484 – Livingston

936-646-3600 – Onalaska

409-283-5073 – Woodville
About Broken Arrow Pest Control

Are you afraid to turn on the lights and see roaches running to hide? Are you scared that something is eating on your property 24/7? Would you scream if a bug ran across your desk when you are in the middle of a big project?
I'm Daniel Shank, the 3rd generation owner of Broken Arrow Pest Control, LLC. We have been providing solutions to your friends and neighbors for 45 years eliminating and preventing future infestations of unwanted pests. Our trained and licensed technicians can come take a look at your property and create a plan to quickly get them under control.
We are committed to being the best and guarantee our pest control service meets the high quality standards you deserve.
Do you have a pest problem or simply have some questions? Give myself or one of our staff a call anytime you like at 936-327-7484.
Thank you and hope to hear from you soon!

Give us a call to schedule a free inspection and we will create a treatment plan for your residence or business and get started right away. Then sit back and relax, you're in good hands.