Termite Bait & Monitoring System
A termite baiting and monitoring system is the answer to getting rid of termites in your home. It is by far the most intuitive and powerful preventative solution for termites. Your pest control professional will know what makes the most sense in your situation in terms of making sure there aren't any termites lying in wait for you under your home.
How Do Termite Bait Stations Work?
With help from a local pest control expert, bait stations can get rid of subterranean termites. They have colonies in the soil and will forage for food in the top 6 to 8 inches of the soil.  When termites are looking for food they will find the bait in these stations, feed on it and take it back to the colony where everyone will get a dose of it, ultimately killing the colony.
Termite Bait System Benefits
Termite bait systems are an effective way to ward off subterranean termite infestation. This system is discreet and quite simple for hiccups in pest control that you might be encounter!
Termite bait stations are less invasive than typical liquid treatments.
Bait systems use precisely targeted to where termite activity is and can be modified at any time.
Since termite bait deployment is easier around a house than liquid soil treatment, it has proven to be a popular way to treat for these wood-destroying pests.
A trained termite control specialist can explain each treatment method, i.e., liquid termiticide or termite bait stations and which will yield the best results.
Our Termite Elimination Process
Get Started with an Inspection
A qualified technician well-versed in termite pest control will conduct a detailed inspection of your property, searching for signs of termite pest infestation and conditions conducive to them.
Termite Bait System Installation
Our technicians will place bait stations in the soil around your property at precise intervals. These stations are filled with bait that termites will feed on and take it back to the colony to feed those in the colony, resulting in complete elimination of the termite colony—including soldiers and the King and Queen.
Ongoing Termite Protection
Once the existing termite problem is eliminated, the termite baiting system will continue to provide protection from other termite colonies that may be lurking around your yard.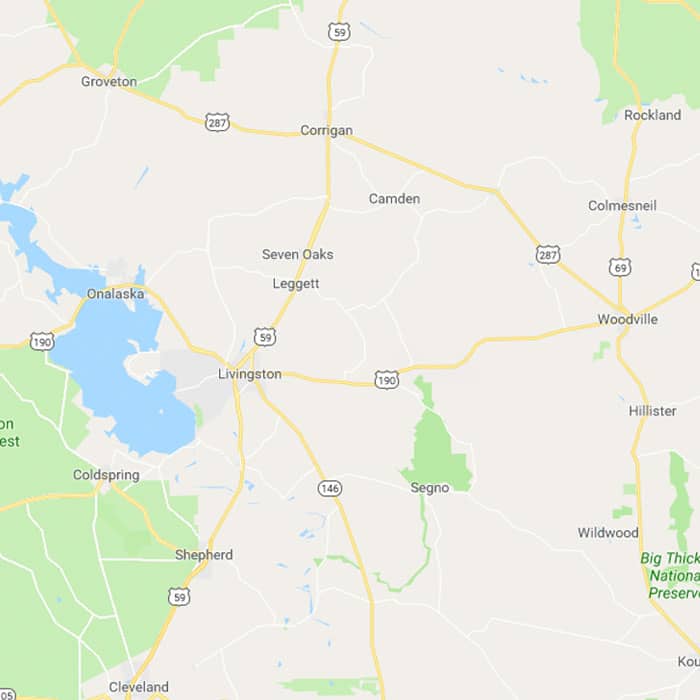 Service Area
We provide pest control Services to Polk County, San Jacinto County, Tyler County, Jasper County, Angelina County, Liberty County, Trinity County and some of the surrounding areas.
So if you are in:
Livingston, Woodville, Coldspring, Onalaska, Shepherd, Corrigan, Chester, Colmesneil, Fred, Trinity, Spurger, Warren, Oakhurst, Rye, Jasper, Lufkin, or other areas in between give us a call.
936-327-7484 – Livingston

936-646-3600 – Onalaska

409-283-5073 – Woodville

Give us a call to schedule a free inspection and we will create a treatment plan for your residence or business and get started right away. Then sit back and relax, you're in good hands.